Why are we seeing so much smoke in Virginia?
Air Quality has plummeted to unhealthy levels up and down the East Coast courtesy of fires in Canada.
Published: Jun. 7, 2023 at 8:40 AM EDT
|
Updated: Jun. 9, 2023 at 9:39 AM EDT
RICHMOND, Va. (WWBT) - It's normal for Canada to get wildfires this time of year. Their spring fire season is later than ours. In the USA, our "green up" has already occurred. "Green up" is when brush and grasses break dormancy. When that happens, the green vegetation helps to suppress wildfires. For example, The Spring fire season in Virginia ends on April 30. But Canada is a colder climate, and their "green up" happens later.
This year's fire season is looking exceptionally bad as they are expecting to continue to battle fires all the way through August.
Michael Norton with Canada's Forest Service says there's no end any time soon.
A combination of a lower-than-normal snowfall this winter plus a recent heat wave is fueling the fires. The map is covered with dots representing fires all across the country. The fires I circled in purple (in Quebec) are the ones sending smoke our way. Note: Canadian officials say most of the fires are human-caused.
Most years, the fires form and we barely notice. This year's fires are exceptionally bad and the weather pattern is unique across North America . We've been stuck in a "blocked" jet stream pattern. This map from the European Computer Model shows winds at the Jet Stream level (around 30,000 feet). It happens every so often but it's not our normal pattern.
On the surface map, a ridge of high pressure over Central Canada is coupled with a persistent offshore storm near Maine.
That is funneling HOT Air into Canada and the Midwest and Northern Plains of the U.S. while the Eastern Seaboard gets a cool Northerly breeze. Some form of this pattern has been around for the past few weeks and it is one of the reasons our spring weather has been so pleasant. Click here for my blog about our long, pleasant, spring
But now that cool breeze from Canada isn't so pleasant. It's bringing smoke with it, and LOTS of it. Here's the most recent air quality map from the EPA
You can check current air quality at this link.
So when will the smoke go away? For that to happen, we need a more typical summer pattern to develop, meaning a wind from the West or Southwest and a breakdown of the stalled pattern.
The European Model has that change back to normal happening Sunday, June 11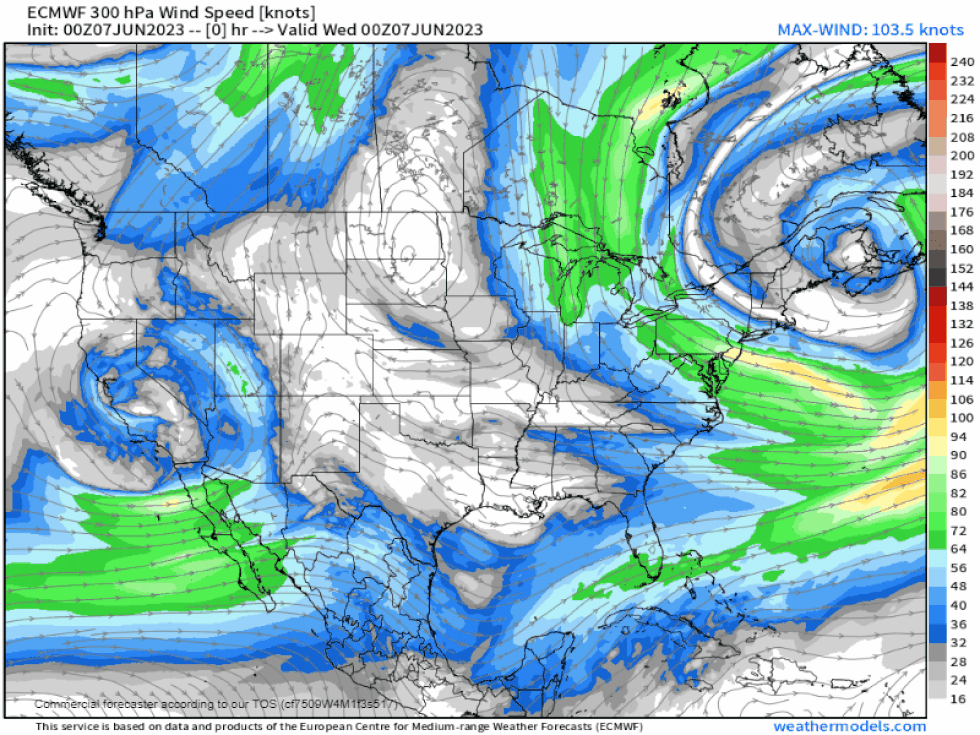 I think you'll notice two things happening on Sunday.
1: It's going to get hotter. Our forecast has upper 80s
2: Humidity will climb as more typical SW winds arrive
3: The smoke and haze will go away!
If you have heart or lung problems, or asthma, you should limit your exertion time outdoors when a Code Orange or Red is issued! And any change BACK to a Northerly wind could bring more smoke our way through the summer.
Copyright 2023 WWBT. All rights reserved.